To keep pipelines, hoses and cables afloat the Flootzer pipe floater can be used. The floaters are made of strong PVC canvas and are inflatable too. Because they are made of strong material, they will not collapse that fast. High temperatures and high pressures are no longer dangerous for our floats.
Extra buoyancy with pipe floater
Inflatable floaters do not use a lot of your space. It can also save a lot of money because they can be transported small. At the workspace the floaters can be inflated. Sailmaker de Wit has years of experience in producing this product.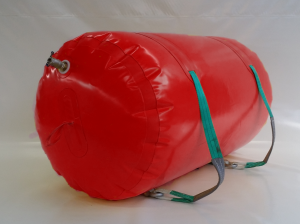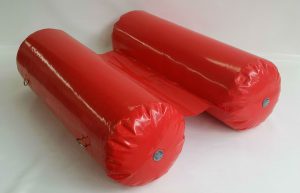 The pipe floater is normally used at shallow waters. Not only at the coast, but also on lakes the inflatable floaters are used. Do not longer drag the pipelines, hoses or cables across the bottom. Move the pipe by using the inflatable floats of Sailmaker de Wit
Easy to use
By using the pipe floater direct contact with the bottom is avoided. This means that wear and tear is no longer necessarily. When the project is over, the pipe floater can easily be stored for the next project.
Before we sell the pipe floater a test will be done. Due to this we can be sure to deliver a strong an high quality product. The Flootzer floaters are used for pipelines, cables and hoses. If you want more information about the floats do not hesitate to contact us.